Time Saves Lives with E-Plan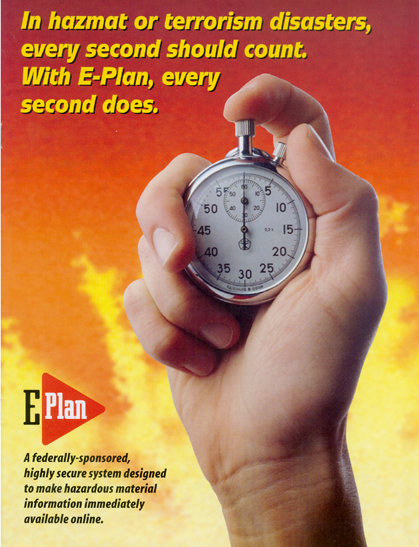 A highly secure, web-based system that is instantly equipping response teams with life-saving information.

In most businesses, time is money. In the business of responding to oil and hazardous material emergencies, however, time also translates to saving lives and property. But until the development of E-Plan, emergency personnel frequently did not have timely information to respond safely.

Although federal and state regulations require chemical plants, refineries, pipelines and hazmat warehouse to submit emergency response plans and substance inventories, researching this paper-based data is a time consuming task. Consequently, numerous firefighters and police officers have died in the line of duty simply because they responded to situations without knowing the specific dangers of a hazmat call.

"Most agencies that receive hazardous material documents from industry store them in libraries that never see the light of the day," said Jim Staves, the preparedness and the prevention team leader of U.S. Environmental Protection Agency (EPA), Region 6. "It could take hours to get copies of information that can now be accessed in seconds on Internet."

Until 9-11-2001, oil and hazardous materials emergencies were primarily associated with accidents. But today, the potential for terrorist attack on chemical plants/refineries and hazmat warehouses has added another layer of concern for industrial facilities, emergency response teams and regulatory agencies. The possibility of simultaneously attacks on more than one facility compounds the risks even more.

When the world changed on 9-11-2001, the need to expediently automate the hazmat information system intensified. The EPA initially teamed up with The University of Texas at Dallas (UT Dallas) in late 2000 to develop E-Plan. By mid-2001, the revolutionary web-based solution had already received an approval rating of nearly 90 percent from the Region 6 Regional Response Team (RRT). Today, Department Homeland Security, EPA and UT Dallas are accelerating usage of the E-Plan program by emphasizing its high level of security. In addition to Tier II data, E-Plan makes available other important information instantly, such as:

Maps of the area surrounding a fixed facility showing schools and hospitals
Facility Emergency Response Plans
Facility Risk Management Plans (RMP's)
Federal Area Contingency Plans
Facility diagrams and building floor plans
Safety Data Sheets (SDS's) and Material Safety Data Sheets (MSDS's)
Chemical Hazards Response Information System (CHRIS) data
Chemical profiles
Emergency Response Guidebook (ERG) pages
National Fire Protection Association (NFPA) codes

E-Plan has the capability for nationwide coverage in all 50 States, District of Columbia, and four U.S. territories.